Huayu Group – Established in 2001. Focusing on medicine, cosmetics, health care products, which includes research、development、production and sales department, Huayu Group has a history in the industry more than 20 years, and established three subsidiaries:
Nanyang Haida Biological Technology Co., LTD
Nanyang New Skyline Biotechnology Co., LTD
Huayu International Health Management Co., LTD
Huayu headquarter covers an area of 19800 square meters, located in the hometown of medical sage Zhang Zhongjing, south of wisdom saint Zhuge Liang's farmland.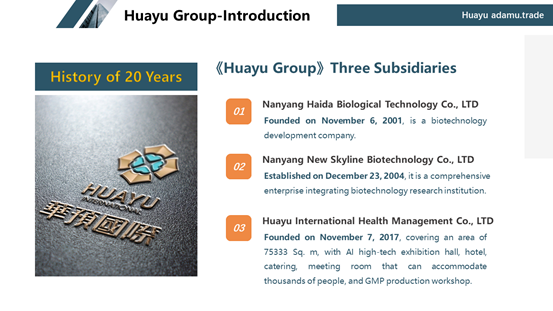 Adamu Exchange Founded in 2015 with AFS financial derivatives license, regulated by ASIC (Australian Securities & Investment Commission), Adamu Exchange is a leading decentralized financial institution. Focusing on providing users with digital currency, digital share options, digital equity and other trading services, also provide enterprise financial blockchain transformation services for corporate users, reducing labor costs for individuals and corporates, improving corporate financing efficiency. Service content contains digital financial derivatives trading, business blockchain transformation, multiple currency mining, community autonomy, financial social platform and financial education training program. Currently Adamu exchange is under deep cooperation with International stock exchange, not only enriching their own high-quality resources reserves, but also provide more users with abundant practical type of financial services. Since its launch, it has provided professional information and data for many users, and beloved by them.
Looking back at the beginning of 2020, the sudden outbreak of the epidemic made global industry and financial market increasingly fluctuate in a cliff-like manner, and various industries were constantly making technological upgrades and scheme improvements, especially the blockchain industry. Blockchain technology as the underlying technology, data management as the core and distributed storage as the fortress of the emerging industry; And trusted exchange for many investors is known as a comprehensive platform, which is important for the flow block chain era, that has a unquestionable high value, but it is a pity that the exchanges are more or less have some solidification defects, the problems of commercial application are gradually exposed, the industry also facing technical constraints. Nowadays, the blockchain technology plays a greater role in rapid development of digital currency industry of financial services field, it is no longer a hint, it already is the beginning of an new era, DeFi contains a huge market opportunities, but it functionality, application and service needs improvements at present. The arrival of Huayu Group will fulfil all that.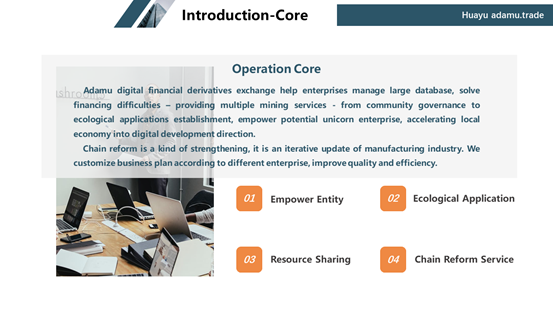 In the era of digital economy, the degree of application in practice has become a measure of development height of an enterprise. In 2021, Huayu · Adamu takes its core technology as fuel, digital economy as model, big data as the core, and enterprise blockchain transformation as the engine to help traditional enterprises solving production information lagging and enterprise development bottlenecks to improve efficiency. Block chain technology combine with industrial resources not only could achieve a decentralized safety credible basis, but also can keep millions of transaction concurrency for high-performance, adopting super node and globalization custody, clearing the underlying block chain model, developments go beyond the traditional financial efficiency and the technical ability, and make the use of assets decentralized and transparent, Huayu · Adamu assigned to enhance the substantial economy application development, creating new advantages for enterprise blockchain transformation, big data management, health management to pursue a new value system.
Disclaimer: The views, suggestions, and opinions expressed here are the sole responsibility of the experts. No Insta Daily News journalist was involved in the writing and production of this article.